A rare beast has been spotted on the cycle paths of Dumfries:
This is the council's latest acquisition and we're really delighted – it's for treating cycle paths (we'd call it a gritter but it actually uses brine rather than grit and rock salt because that's more effective on cycle paths where there are no car wheels to help spread it). We've long been calling for cycle paths to be treated against ice and snow, just as the roads are. Since the opening of the new hospital, the lack of gritting of the Maxwelltown path has been a real problem because it is now a major commuter route for hospital staff who may be travelling to and from work at all hours.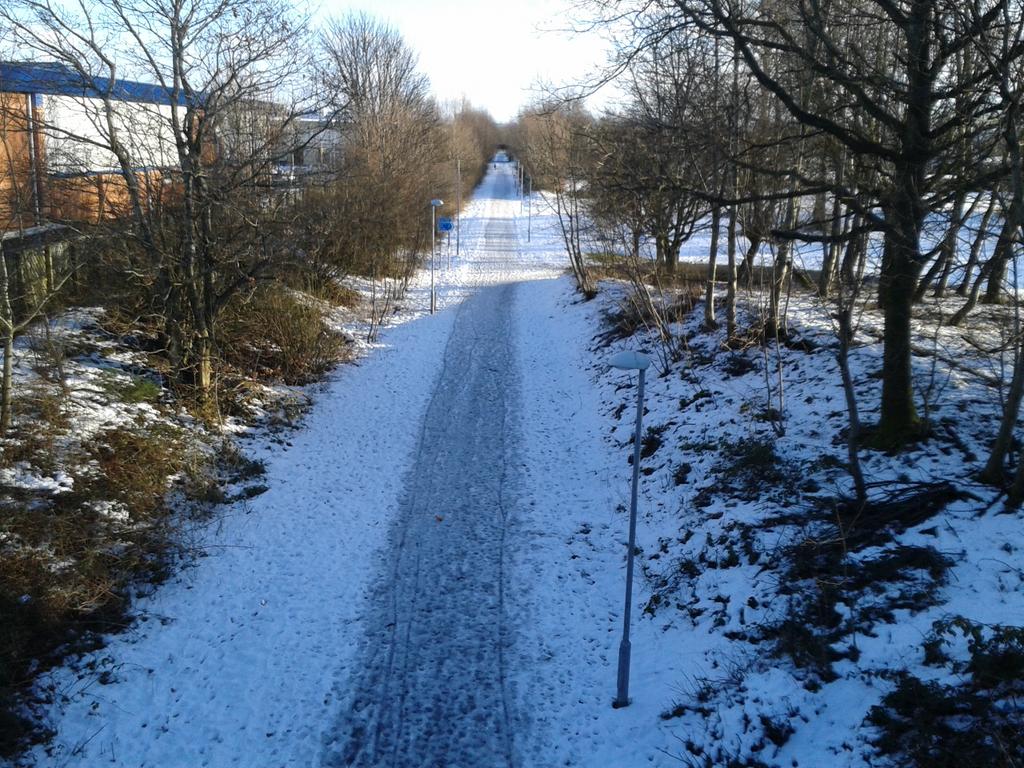 Not only that, but the council have also been working to cut back vegetation on some of the paths where it has started to encroach (as well as removing some of the barriers to path entrances, partly to let their little not-a-gritter through) – this has been positively noted by the cyclists of Dumfries, who have gone so far as to describe the Station path as 'a delight'. A big thanks and well done to the council for organising that!
That said – with the icy weather last week, we still saw lots of cyclists coming off their bikes on the ice, particularly on Tuesday, so what's going on? Partly it's to do with the limitations of winter path treatment: if the brine goes on before it rains then it can be washed off, or if it's more than a few degrees below freezing, ice will still form. So please do check the weather forecast and the overnight conditions before setting off, and plan your journey accordingly.
There's also the fact that not all paths are treated. We know that the station path is too narrow for the de-icing machine to access, so doesn't get treated. We're told that the grit bins at path entrances are for the public's use, so if you're feeling particularly public spirited and have the time, feel free to treat the worst spots yourself. Other paths also may not get treated (the Maidenbower for instance) so check with the council about whether the ones near you are treated and if not, ask your councillors about getting it added to the route.
The de-icing also doesn't seem to reach the access paths for the Maxwelltown path (which are probably the most dangerous bits to ride if it's icy!) and the 'snail trail' of brine it leaves is quite narrow – it doesn't treat the whole path. Hopefully, these are things that can be improved once the system beds in but meanwhile, be cautious when entering and leaving the path and try and keep on the brined strip if you can (random dogs and pedestrians permitting).
If you're still finding ice a problem on your route, you can get a bit more grip by letting some air out of your tyres (to increase the contact patch with the tarmac) or even fitting ice tyres (like Marathon Winters – other brands are available) which are pretty magic even on black ice.  But the best safety tip of all (whether you're cycling, walking OR driving) is to allow extra time for your journey – being in a rush is a recipe for danger.
Despite these limitations, we are still very pleased to see the council starting to treat cycling and walking as a year-round means of transport and treating its flagship routes accordingly. We spend a lot of time complaining about things in Cycling Dumfries – and this is an issue that has come up year after year – so thank you, and here's to safe cycling for everyone for the rest of the winter.