Well, there was no winter ride this morning, everyone having very sensibly voted with their feet and decided not to risk the icy conditions. I have spiked tyres on my bike, so I headed down to Dock Park anyway just in case anyone was foolhardy enough – or similarly equipped – and fancied enjoying the winter sunshine.
Normally, my route into Dumfries is pleasant enough – coming from the Irongray Road, I cross the A75 over the Cuckoo Bridge and then through Goldie Park, over the foot and cycle bridge, and along the Whitesands on the river path.
Not so this morning, as none of these paths were really cycleable (or even easily walkable) – and this on a bike equipped with carbide steel spikes on its tyres (and which had comfortably handled 3 miles of black ice on the rural back roads)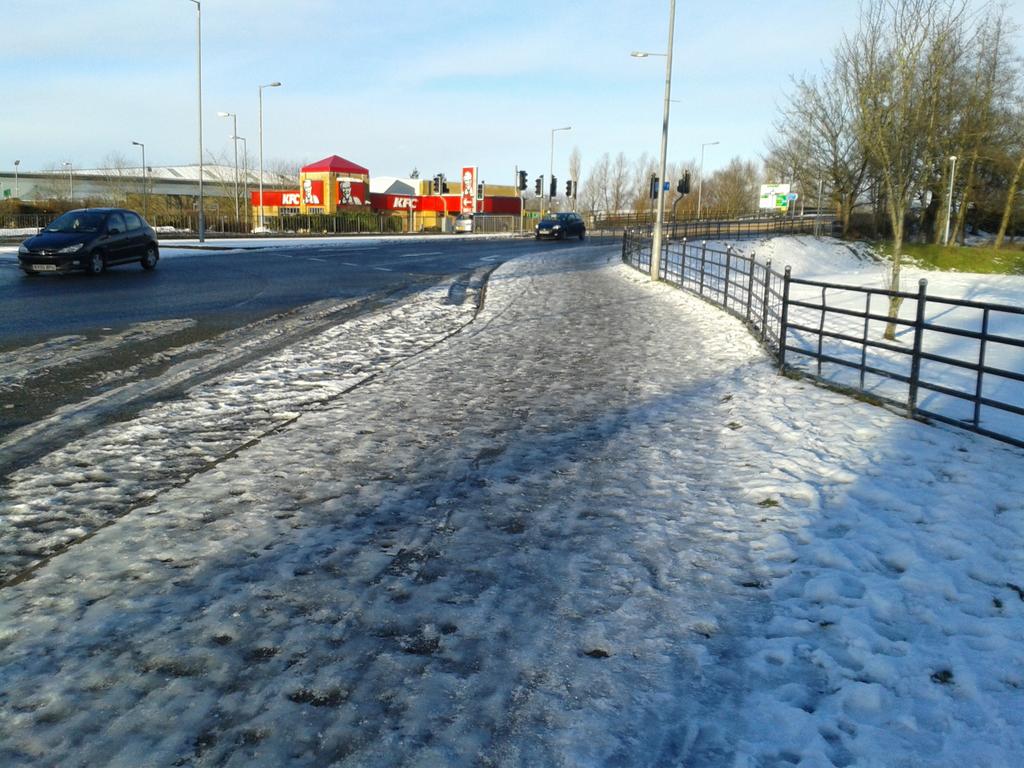 The Whitesands wasn't much better – a path a bare 18 inches wide had been cleared from the bus stances to the Suspension Bridge (and mind you don't collide with the information sign). After that you were on your own – or on the road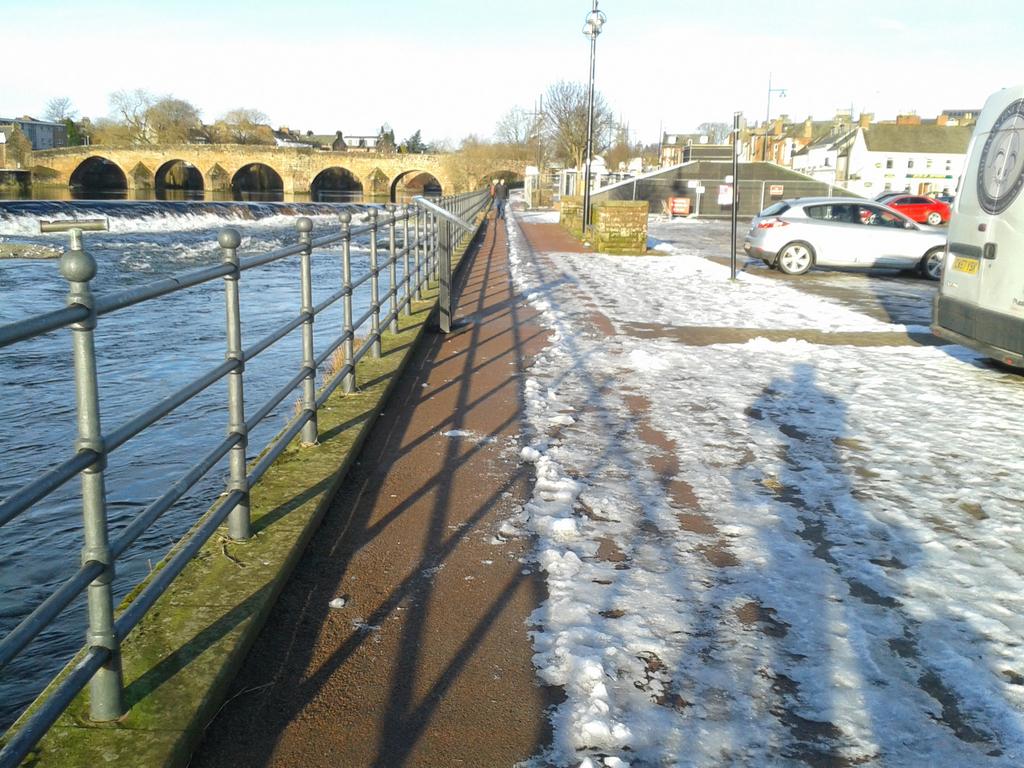 The Maxwelltown path – Dumfries's flagship cycleway, and the planned route to the new hospital – wasn't looking all that much more inviting: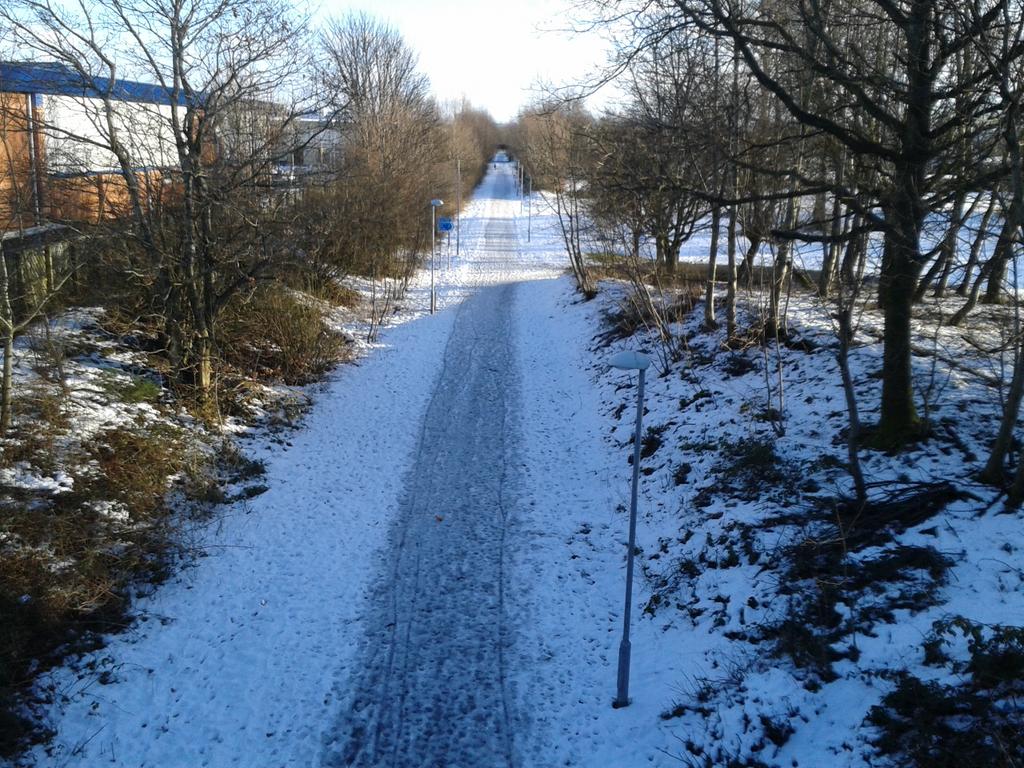 In fact, the only place where anyone could comfortably move was on the road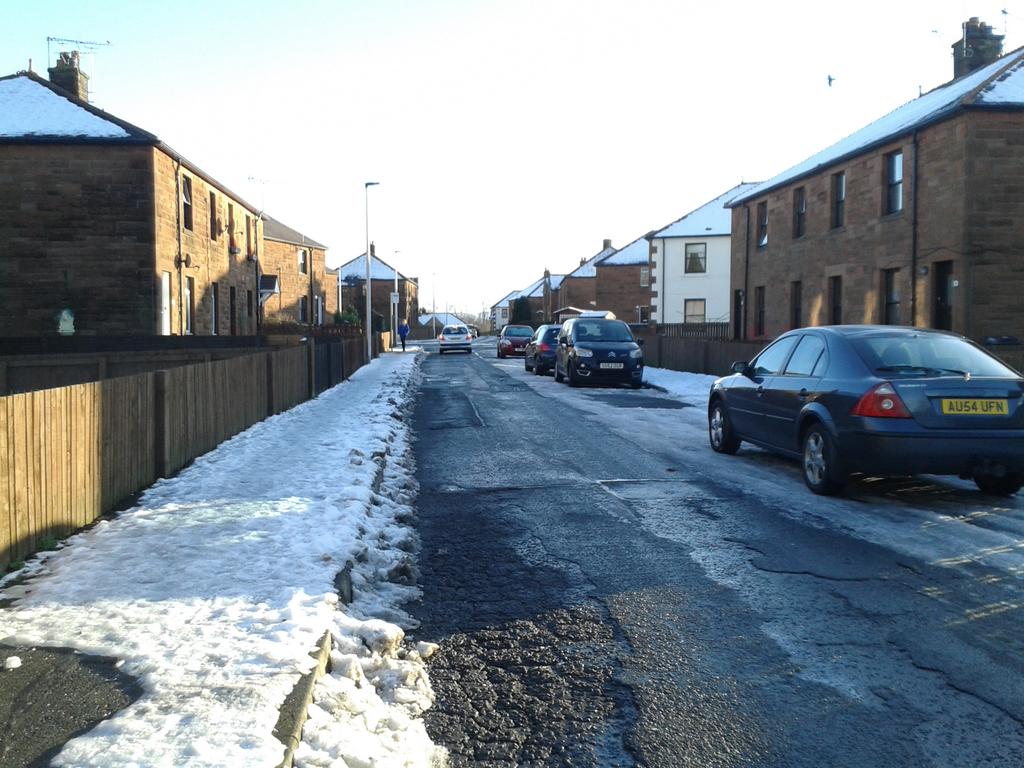 If you read any of the various council transport strategies (and for our sins, we've read a lot of them), there will be lots of fine words about 'reducing car dependency' and making cycling and walking 'the norm' for short journeys. Encouraging stuff! But then you look at these pictures and realise they are just words. Whatever the strategies and visions might say, what is actually done on the ground shows that the real no. 1 priority for the council when it comes to transport is the private car.
This isn't just about bikes, either. I was able to get into town by switching to the road – it's not as pleasant as using the cycle paths but it's possible. But pedestrians are stuck with the icy, treacherous pavements, especially along the busier roads where you can't just walk in the carriageway. One in five households in Dumfries and Galloway have no access to a car. Many of those will be the poorest and most vulnerable people in the region. For them, those icy pavements aren't just an inconvenience – they can end up trapping people in their houses, or sending them to A&E. How many more care resources will be needed to pick up the pieces after a long winter simply because there were no resources, or it was not a priority, to clear the footpaths of snow and ice? This snow fell on Thursday – the council have had two days to do something about it. Some of these are supposed to be priority routes for clearing and gritting. What are the chances we will actually see it cleared before it just melts naturally?
I've reported the state of the paths I encountered  and you can use the central number 030 33 33 3000 if you need to report a problem on your route – but it does seem it's up to us to let the council know that we'd like to walk and cycle as well as just drive everywhere. And next time I'm in a meeting or read a document saying that pedestrians and cyclists are a priority, you can expect to hear a hollow laugh from me.